Written by Carl-Adam Wegenschimmel
The theme of this year's World Wildlife Day celebration is "Sustaining All Life on Earth," which recognizes biodiversity as a key component in protecting natural life.
To this end, it is important to acknowledge all species, including those that are often ignored or seen as not having any economic value to humans. We need to take a holistic perspective and recognize the interconnectedness of all living things. Although many plants are valued by people, many other species remain ignored but nonetheless have intrinsic worth and act as key components of ecosystems.
Here in Canada, we are still discovering and learning about our own plant communities. During Ontario Botanists' Big Year 2019 on iNaturalist, Kevin Gevaert discovered a plant that is new to Canada: Slender Three-seeded Mercury (Acalypha gracilens) -- surprisingly within the urban boundary of Caththam-Kent.
This past fall, while I was out exploring a section of the Niagara Escarpment with fellow ecologists Tristan Knight and Jose Maloles, Tristan discovered a moss growing on the cliff face which he identified as Fan Moss (Forsstroemia trichomitria). This species was rediscovered in Quebec in 2011 after not being seen in North America since the late 1800s. Since then, it has only been observed once in Ontario and once in Quebec.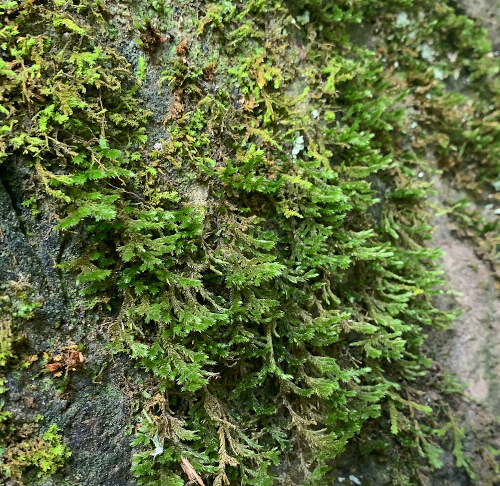 Photo by Carl-Adam Wegenschimmel
Tristan's discovery marked the second modern record for Ontario and fourth extant record in North America.
Jennifer Doubt, a botanist at the Canadian Museum of Nature in Ottawa, is currently documenting Fan Moss distribution and abundance in Canada, to help understand its conservation status.
Another recent discovery in northeastern North America is the Tall Beech Fern (Phegopteris excelsior), seen for the first time in 2019. Although it hasn't been documented in Ontario yet, I believe it is only a matter of time before some keen observer is able to separate it from the closely-related and better-known Broad Beech Fern (Phegopteris hexagonoptera).
 I am often amazed in the ability of healthy, mature forests and plant communities to support substantial fungi and lichen communities, with many species still completely under the radar. Here too, there are likely many discoveries yet to be made.
For example, while recently exploring a swamp in Hamilton, I found a species of Chaenothecopsis fungi growing on Paper Birch (Betula papyrifera) which appears to be new to science based on previous collections in Ohio. Another new species of lichen was recently discovered in swamps near Toronto, a stubble lichen (Chaenotheca selvae), which seems to have an affinity for stumps of mature Maple trees.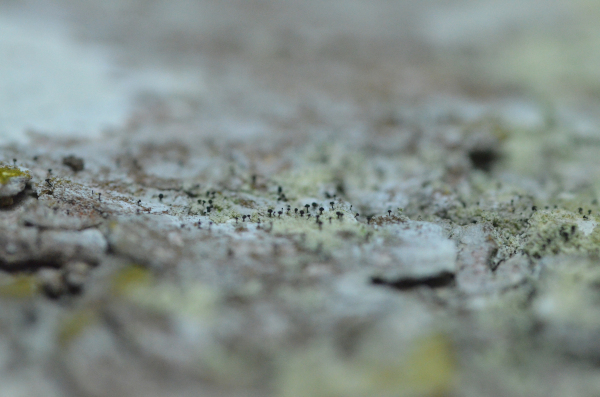 Photo by Carl-Adam Wegenschimmel
I think that these discoveries underscore how much we have yet to learn, even in places that are generally well-surveyed and emphasize the need to continue to study our ecosystems.
Discoveries like these also highlight the need to protect natural areas, which maintain biodiversity at both the local and global level.
Many wildlife observations today come from citizen science initiatives, which gather the unique experience and knowledge of individuals into centralized databases. These include eBird, created by Cornell University and the Audobon Society, and iNaturalist, offered by the California Academy of Sciences and the National Geographic Society.
These apps make it easy for anyone to contribute to our understanding of biodiversity. This can create newfound appreciation and positive momentum towards sustaining our natural world. One of our big dreams for Network of Nature is to use this kind of technology and public participation to enhance our understanding of Canadian plants and landscapes.
Are you an intrepid botanizer who would like to participate in Network of Nature's work? You can use our Submit a Photo form to contribute your plant photos, or Contact Us directly if you have a larger collection you'd like to share.